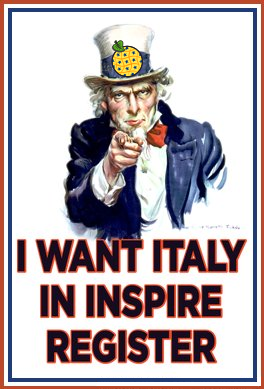 See below for English version.
Premessa
INSPIRE
prevede che ogni Stato Membro fornisca almeno un endpoint nazionale per il
discovery
di metadati.
Ad oggi, la maggior parte degli Stati Membri (23 su 28) ha soddisfatto questo requisito registrando il proprio riferimento nazionale nel geoportale INSPIRE:
http://inspire-geoportal.ec.europa.eu/INSPIRERegistry/
In particolare, come si può vedere, alcuni paesi hanno registrato più di un
endpoint
, come l'Austria, il Belgio e la Lettonia: è infatti possibile registrarne anche più di uno per paese
A differenza di ciò, l'
Italia non ha ancora alcun endpoint registrato per il servizio di discovery
.
Per questa registrazione è necessaria una semplice comunicazione (email) del National Contact Point INSPIRE (o di qualcuno delegato dal NCP) indirizzata a EC/EEA INSPIRE Team (
env-inspire@ec.europa.eu
) ed per conoscenza JRC (
michael.lutz@jrc.ec.europa.eu
).
Domanda
Perché il servizio CSW realizzato da RNDT non è ancora stato registrato come
endpoint
italiano?
Dal punto di vista normativo, sia il recepimento della Direttiva INSPIRE (Dlgs. 32/2010) che il Codice dell'Amministrazione Digitale riportano che
RNDT è il riferimento nazionale
in questo contesto:
"Il repertorio nazionale dei dati territoriali, [...] costituisce il catalogo nazionale dei metadati relativi ai set di dati territoriali" (Dlgs. 32/2010, art.5)
[1]
.
Dal punto di vista tecnico-operativo i test effettuati nel luglio 2013 e gennaio 2014 dal Joint Research Centre della Commissione Europea (su richiesta dell'Agenzia per l'Italia Digitale) hanno dimostrato che il servizio CSW del RNDT e
la quasi totalità dei metadati raccolti sono perfettamente conformi
a quanto previsto dai Regolamenti
1205/2008
(metadati) e
976/2009
(servizi di rete) della Commissione Europea, nonché alle relative
Technical Guidelines
(
1.2 del 2010
per i metadati, e
3.1 del 2011
per i servizi di discovery).
In particolare il test effettuato a gennaio 2014 ha riportato 4412 metadati "
passed
" e 412 "
passed with warnings
" su un totale di 5540 metadati sottoposti ad
harvesting
(nel RNDT i metadati disponibili sono 6143).
Il livello di conformità rispetto a INSPIRE è quasi totale per i metadati di dataset e serie (4415 su 4462).
Questo è un risultato importante ed è da notare che risulta essere migliore rispetto ai risultati ottenuti da altri Stati Membri.
Il report completo è disponibile a questo indirizzo:
http://inspire-geoportal.ec.europa.eu/resources/sandbox/INSPIRE-dc160d85-7f54-11e3-9486-d8d3855bd8fc_20140117-095358/services/1/PullResults/
Sottolineiamo che è importante che la registrazione del servizio sia fatta al più presto perché:
la disponibilità dei metadati italiani nel catalogo europeo serve a dare visibilità alle informazioni territoriali esistenti in Italia, il tutto proiettato a


supportare le politiche ambientali nazionali e comunitarie
favorire la conoscenza e la promozione del nostro territorio;

l'iniziale disponibilità di metadati potrà innescare un processo virtuoso spingendo gli enti pubblici di ogni livello a conferire i metadati all'RNDT per far conoscere le attività dell'amministrazione su scala internazionale;
per incentivare la realizzazione di servizi innovativi da parte di professionisti, consulenti e PMI locali da offrire agli enti locali sulla base della disponibilità di dati;
per istanziare il ruolo del "nodo" Italia all'interno della rete;
per dare riconoscimento e visibilità alle persone che, su scala diversa, hanno attivamente operato per la realizzazione dell'infrastruttura e dei servizi.
Conclusioni
Alla luce di queste considerazioni, esortiamo il NCP INSPIRE italiano a comunicare al più presto al JRC l'indirizzo del servizio CSW di RNDT affinché questo venga registrato come primo endpoint italiano in INSPIRE.
---
Firmatari (in ordine alfabetico)
Giovanni Allegri
Roberto Angeletti, ExportToCanoma blog
Andrea Antonello
Fulvio Ananasso, Stati generali dell'innovazione
Associazione italiana per l'informazione geografica libera - GFOSS.it
Associazione Stati Generali dell'Innovazione
Ugo Bonelli, Stati generali dell'innovazione
Andrea Borruso
Stefano Campus
Giovanni Ciardi
Piergiorgio Cipriano
Bruno Conte, Stati generali dell'innovazione, Social4Social
Simone Cortesi
Laura Criscuolo
Antonio D'Argenio, Nadir
Margherita Di Leo
Alessio Di Lorenzo
Gianfranco Di Pietro, Geofunction
Antonio Falciano
Sergio Farruggia, Stati Generali dell'Innovazione, AMFM GIS Italia
Daniela Ferrari
Maurizio Foderà, Kartoblog
Marco Frattoddi, Stati generali dell'innovazione
Antonio Fregoli, MNDAssociation
Pietro Blu Giandonato
Cesare Gerbino
Simone Giannecchini
Jacopo Grazzini
Nicola Guarino, ISTC-CNR
Giuseppe Iacono, Stati generali dell'innovazione
Carlo Infante, Stati generali dell'innovazione, Urban Experience
Andrea Latino, Stati generali dell'innovazione
Simone Lella
Walter Lorenzetti, gis3w
Jody Marca
Flavia Marzano, Stati Generali dell'Innovazione e Rete WISTER
Giacomo Martirano, Epsilon Italia, coordinatore progetto smeSpire
Stefania Morrone, Epsilon Italia
Lorenzo Orlando, Stati generali dell'innovazione
Alessandro Oggioni
Mariella Pappalepore, Planetek Italia
Stefano Parodi, GeoWebLog
Lorenzo Perone
Emma Pietrafesa, Stati generali dell'innovazione (Rete WISTER)
Renzo Provedel, Stati generali dell'innovazione, SOSLOG
Angelo Quaglia
Morena Ragone, Stati generali dell'innovazione
Paolo Russo, Stati generali dell'innovazione
Alessandro Sarretta
Monica Sebillo, AMFM GIS Italia
Gian Bartolomeo Siletto
Claudia Spinnato, Consorzio TICONZERO
Lorenzino Vaccari, Provincia Autonoma Trento
Franco Vico, AMFM GIS Italia
Fabio Vinci, Epsilon Italia
Massimo Zotti
---
[1] Inoltre, il Decreto 10 novembre 2011 relativo alle regole tecniche del RNDT, emanato dal Ministro per la Pubblica Amministrazione e l'Innovazione e dal Ministero per l'Ambiente e la Tutela del Territorio e del Mare, dispone che il RNDT, parte integrante dell'infrastruttura nazionale, eroghi i servizi di ricerca (art. 2) e prevede la pubblicazione dei metadati nel RNDT, assicurando il rispetto degli adempimenti di cui al Regolamento (CE) n. 1205/2008 e al D. Lgs. n. 32/2010 (DM art. 4)
---
Petition to the Italian NCP for the RNDT registration in INSPIRE
According to INSPIRE each Member State must provide at least one endpoint for the discovery of national metadata.
To date, the majority of Member States (23 out of 28) met this requirement by registering its national endpoint in the INSPIRE geo-portal :
In particular it's worth noting that some Member States have recorded more than one endpoint, e.g. Austria, Belgium and Latvia : it is also possible to register multiple national endpoints.
In spite of this, Italy has not yet registered its endpoint for the discovery service.
Why the CSW service exposed ​​by the RNDT has not yet been registered as one of the Italian endpoints?
From the regulatory point of view , both the transposition of the INSPIRE Directive (Legislative Decree 32/2010 ) and the Codice dell'Amministrazione Digitale report that RNDT is the national reference in this context :
"
The national repertoire of spatial data, [... ] is the national catalog of metadata for spatial data sets
" (Legislative Decree 32/2010 , Article 5).
From the technical and operational point of view, otherwise, the tests carried out in July 2013 and January 2014 by the Joint Research Centre of the European Commission ( upon request of the Agenzia per l'Italia Digitale) have shown that the CSW service and almost all of the metadata harvested are fully compliant to the provisions of Regulations 1205/2008 (metadata) and 976/2009 (network services) of the European Commission, as well as the related Technical Guidelines ( 1.2 of 2010 for metadata , and 3.1 of 2011 for discovery services) .
Notably the test performed in January 2014 reported 4412 metadata "passed" and 412 "passed with warnings " out of a total of 5540 " harvested "metadata (the total available metadata in the RNDT are 6143) .
The level of compliance to INSPIRE is almost complete for the metadata related to data (4415 of 4462) .
This is an important result and it is noteworthy better than the results obtained by other Member States.
The full report is available at this address :
We emphasize that it is important that the registration of the service is done as soon as possible because :
the availability of Italian metadata in the European catalog is needed to give visibility to the spatial information existing in Italy , in order to
i. support national and EU environmental policies;
ii. improve knowledge of and encourage investment in our country;
the initial availability of metadata can trigger a virtuous cycle by pushing government entities at every level to provide new metadata to RNDT, to promote their activities at the international level;

to encourage the creation of innovative services by professionals, consultants and local SMEs, based on the availability of data, to the benefit of local authorities;

to instantiate the role of the Italian " node " within the European network ;

to give visibility and recognition to people who, at different scales, have actively worked for the implementation of infrastructures and services .
On the basis of the aforementioned considerations, we urge the INSPIRE National Contact Point to provide as soon as possible the URL of the RNDT CSW, in order to have the first italian endpoint registered in INSPIRE.